Reliable Data Centers
Dura-Line is leading the way in physical network infrastructure, solving the constraints of conventional cabling to help Data Centers provide even more reliable service to their customers. Tech-savvy financial institutions, healthcare providers, retailers, manufacturers, educational institutions, and the many organizations that rely on immediate and constant access to data stored at Data Centers require:
Protection of the fiber and easy cable management
No attenuation loss for optimal transmission
Cost efficiencies, such as curbing capital expenditures and energy costs
Flexibility to customize their data center suite quickly and easily
Speed of data center set-up and subsequent moves, adds, and changes (MACs)
Physical security
Meet Me Rooms
Zero downtime
Future-proofing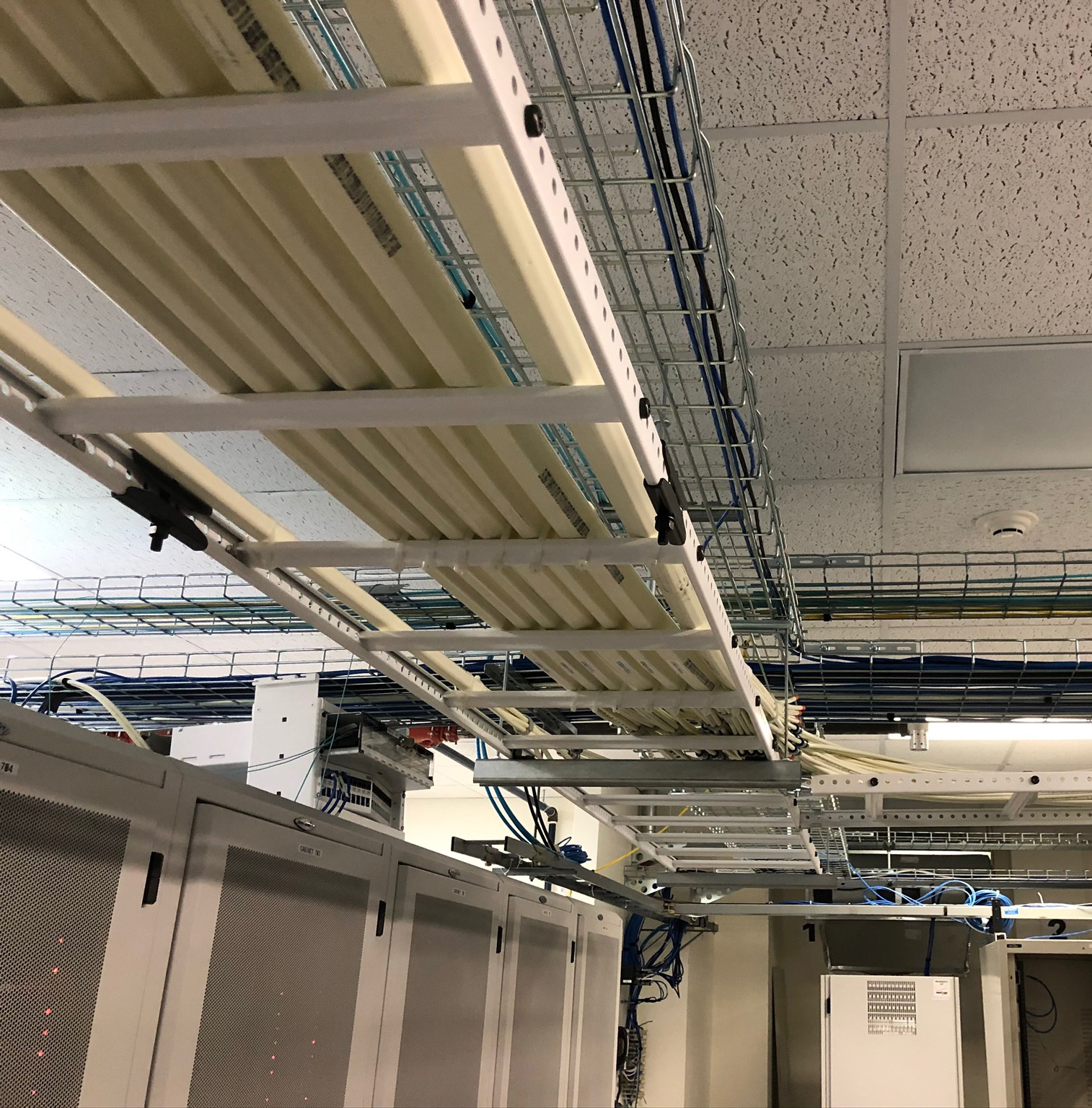 Multiple FuturePath Riser pathways can be routed through a Data Center using a ceiling tray. With up to 24 pathways per bundle, FuturePath delivers high fiber density in a small package.
Conduit Pathways Provide Permanent ROI
The Dura-Line MicroDuct is a permanent pathway that is installed once and can be reused again and again for the life of the facility. Once the Dura-Line MicroDuct infrastructure is in place, the remarkable time and labor cost savings is on-going with each fiber installation, generating continuous return on investment (ROI) for the Data Center. By being able to quickly and easily jet in and out any fiber type and count anywhere and at any time throughout the network, there is no end to the fiber lifecycle, and MACs can be done in minutes providing immediate scalability and near-instant customer service.
Splice-Free Fiber Runs
Data Center customers can conveniently have dedicated protected fiber in an individual pathway for a continuous fiber run from the facility's entrance, throughout the building, and directly to their suite. A single strand of glass, or more, from one end of the building to the other without potential weak points of splices or terminations eliminates the worry of network failure and attenuation loss. In fact, the entire facility's network infrastructure can be built with zero points of failure - where there's no termination, there's no trouble.
Set-Up Speed and MACs
By being able to quickly and easily jet in and out any fiber type and counts anywhere and at any time throughout the network, MACs can be done in minutes or hours versus the days, weeks, or months associated with conventional cabling. MicroCables can be air jetted out as quickly and easily as jetting in and the MicroCables can be reused elsewhere in the network, furthering durability and preserving fiber investment.
Physical Security
Security and the protection of data are a critical concern for Data Centers and their customers. An important component in the MicroDuct infrastructure is the MicroDuct Distribution Box (MDB) that is used at fiber branching locations, such as a technology room or IT closet. Quick and easy rerouting and MACs are accomplished at the MDBs, which also eliminates the need for customers to access restricted areas. Gone are the days of the possibility of disrupting service when making changes. The air-jetting technology offers peace of mind by providing the physical separation required for multiple levels of security through the demarcation of the individual MicroDuct pathways.
Meet Me Rooms
Meet Me Rooms (MMR) are gateways to the internet and allow quick, reliable, and cost-effective connections between the building's tenants. It is a secure place within a data center where customers can connect to one or more carriers and telecommunications companies can physically connect to one another and exchange data without incurring local loop fees. This area enables cable companies, ISPs, and other providers to cross-connect with tenants in the data center. In both co-location and owner operated data center, an MMR is a 24/7 environment for interconnection, housing a distribution exchange for predominantly Fiber Optic services. Tenants and users often include Internet service providers ISPs), exchange companies (local), cable companies, and e-commerce companies. Services provided across connections in an MMR may be voice circuits, data circuits, or Internet protocol traffic. An MMR contains cages and cabinets containing servers and switches linked by thousands of cable connections. These physical connections are what allow the world's information to be transmitted to individual computers. (Since MMRs can distribute traffic at a low cost, large, high-bandwidth users such as hospitals and universities can also benefit.)
Zero Downtime
Dura-Line's MicroDucts are often used to create redundant pathways. Downtime, or outage duration, refers to a period of time that a system fails or is unavailable. Given the complexity of network systems, unintentional human mistakes often are to blame for unexpected outages. Since only two installers are needed for air jetting, not only is labor a fraction of the cost compared to traditional installation, but there is less chance for human error. MACs can be done during normal business hours – reducing overtime – discreetly out of view of other employees, clients, and customers, and can be done in a matter of a few minutes or hours, rather than days or weeks.
Additionally, labeling each pathway facilitates fast and easy network segregation, eases troubleshooting, and eliminates cable hunting. Fiber jetting for MACs is usually done behind-the-scenes in a technology room or IT closet, so there is no physical disruption to others with a noisy construction crew of installers accessing floors and ceilings.
Future-Proofing
Eliminate guesswork about which fiber and fiber counts to use, running the risk of installing a soon-to-become-obsolete fiber type or too few fiber counts for the ever-growing high-density and bandwidth-hungry needs of the modern Data Center. With air-jet technology, just quickly
and easily jet in the fiber you need when and where you need it. Customers receive exactly the fiber and counts required for their customized data center bandwidth with empty inner MicroDucts left for quick upgrades in their future-ready network.
Dura-Line's innovative products provide virtually unlimited fiber and bandwidth capacity. Consequently, Data Centers can easily implement the latest high-density, high-bandwidth technology to keep their customers ahead of the technology curve.
Want a better connection with Dura-Line?
Ask a question or email us a comment! We're happy to supply additional information and explore how we can be of service to you.
Want a better connection with Dura-Line?
Ask a question or email us a comment! We're happy to supply additional information and explore how we can be of service to you.